This post is one in an ongoing Mosaic series focused on evaluating tools that enable anyone to move their money out of Wall Street and into investments that generate positive social, environmental, and financial returns.
The Problem
Huge banks. They. Stink. They're not good for communities, for the economy, for the planet, or even really for their customers. Are you stuck with them?

The Facts
The biggest banks are crazy big.
All of us learned something about this truth the first time we heard the phrase "too big too fail." But the big banks keep getting bigger. Since 1994, the percentage of U.S. deposits held by the top 5 banks grew from 13% to 38%. The combined assets of the four biggest banks (J.P. Morgan Chase, Wells Fargo, Bank of America, and Citigroup) now ring in at $7.7 trillion—a figure greater than the GDP of China.
The biggest banks do a poor job of supporting small business.
According to Stacy Mitchell, at the Institute for Self Reliance: "Small and midsized banks control…22 percent of all bank assets, [but] account for 54 percent of small business lending. The largest banks…devote only 18 percent of their commercial loan portfolios to small business." In 2010, Thomas Hoenig, President of the Federal Reserve Bank of Kansas City, told Congress that while small business lending from big banks had dropped 21% after the financial crisis similar loans from small banks only dropped 3%.
Which means the biggest banks are poor job creators. 
Every piece of evidence we have tells us that small businesses, which big banks are terrible at supporting, are our country's job creators. When Jeff Schultz, CEO of Starbucks, decided to help solve the jobs crisis, there's a reason he decided to do it by creating a mechanism for lending to small businesses. And there's a reason he decided to partner with Community Development Financial Institutions to make his loans.
And as for the planet? 
This chart from a 2011 report by German environmental group, Urgewald, pretttty much sums it up: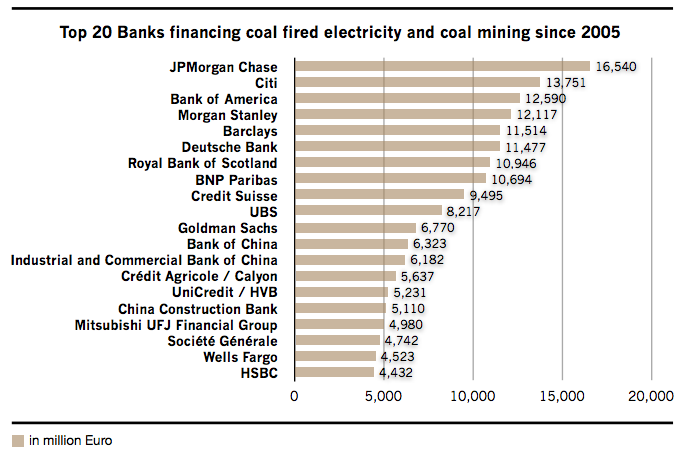 The Solution
So: big banks are using your money and they're not using it well. What do you do? Easy. Move your money to…you guessed it, a smaller bank. We've got some 8,000 community banking institutions in this country. Many are not only better values-wise than big banks—they're better at serving their customers' needs.
We especially like credit unions. While big banks are for-profit and owned by outside shareholders, credit unions are non-profit and owned by the people who bank with them. To put it another way, banks exist to serve the interests of shareholders, and do this by making profits off of your money. Credit unions exist to serve your interests and only strive to break even.
This doesn't mean every credit union is perfect (a future post will deal with the logistics of finding and switching to a great community bank), but it does up the odds of credit unions being better than big banks. Credit unions score higher in national customer satisfaction indices than banks in general, and much better than huge banks like Bank of America or JP Morgan Chase. A 2009 study also found that the typical bank customer pays more than twice the annual fees that credit union customers pay ($183.14 versus $71.47).
There are, of course, some potential downsides to moving your money to a credit union. If you have a ton of money—that is, enough to get a big bank to give you personalized service—it might not make sense. Another complaint is that credit union ATM machines aren't as widespread as those of big banks. However, this is changing fast, as many credit unions join ATM networks (as a bonus most of the ATMs don't charge fees). Finally, a small number of credit unions (roughly 3%) don't offer the same sort of federal insurance on deposits as big banks. We wouldn't recommend these.
Why hasn't everyone joined a credit union? One answer is that it is, undeniably, a hassle to move your money. Another answer is that a surprisingly large number of people actually have joined a credit union. In 2009 credit unions added as many members as they did in the previous 14 years combined. Altogether, credit unions now have 72 million customers nationwide.
That's a big number, and it could stand to get bigger.
For more on credit unions, small business, and constructive capitalism, check out Mosaic Founder Billy Parish's recent column in the Christian Science Monitor or our Will Quinn's earlier post about constructive capitalism and the bank transfer movement.